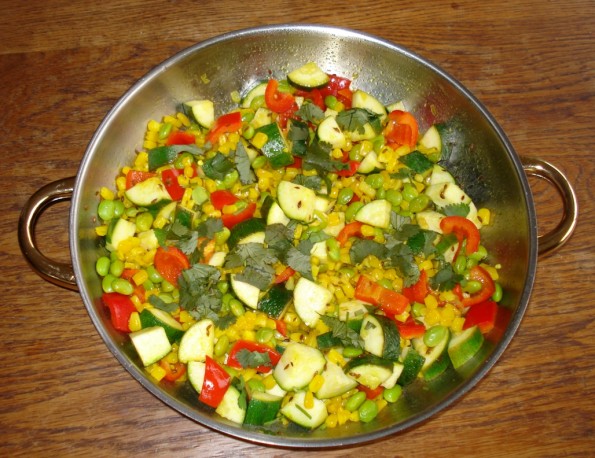 Recipe – Stir Fried Vegetables with Edamame
This is a simple, healthy and delicious recipe that can be served as a main or side dish.

Recipe - Stir Fried Vegetables with Edamame
Cuisine:
Vegetarian, Indian
Prep time:
Cook time:
Total time:
Edamame (Green Soybean or Sweet Soybean) has been cultivated in China for over 3,000 years. Research shows that consuming isoflavone-containing whole soy foods, as opposed to isolated isoflavones, significantly inhibits bone loss and stimulates bone formation in menopausal women. Whole soy foods protect post-menopausal women against cardiovascular disease. Soybeans, high in protein, contain molybdenum, iron, manganese, phosphorus, omega-3 fatty acids, magnesium, copper, potassium, vitamin B2 and choline. For a video of cooking this recipe, click on the video in the right column
Ingredients
1 tsp cumin seeds
2T olive oil
1T sesame seeds
3 cloves garlic chopped
½ jalapeno pepper sliced in half or use cayenne or black pepper to taste
11/2 C fresh or frozen corn
¼ tsp turmeric
¼ tsp salt or to taste
1C thawed frozen edamame
3C cut fresh zucchini
1C cut fresh sweet red bell pepper
1C chopped (with tender stems) cilantro
Juice of ½ a lemon
½ tsp lemon zest
Cooked rice, millet or quinoa
Instructions
Wash the fresh vegetables, cilantro, lemon and jalapeno pepper.
Measure 11/2 C corn and set aside.
Thaw 1C frozen edamame.
Cut the zucchini and red pepper. Peel the garlic cloves.
Chop the garlic and cilantro. Slice half a jalapeno in half.
Zest the lemon
Add jalapeno, salt and turmeric to the corn.
Assemble all the ingredients.
Combine edamame, zucchini and cut red pepper.
Heat a 2-3 quart skillet or pan on medium high heat with 1 tsp cumin seeds.
When the seeds begin to change color and give an aroma add 2T olive oil, sesame seeds and chopped garlic and turn heat to medium.
Fry the garlic for a minute and add jalapeno, corn, salt and turmeric. Stir and cook covered for 2-3 minutes.
Stir and add edamame, zucchini and red pepper. Stir and cook covered for 3-4 minutes.
Before serving add chopped cilantro, lemon zest and fresh lemon juice, stir to mix all the ingredients.
Serve the vegetables with a meal over rice, quinoa or millet. Enjoy leftovers for lunch in a pita pocket.
Nutrition Information
Calories:
128
Fat:
6
Carbohydrates:
16
Sodium:
59
Fiber:
3
Protein:
5